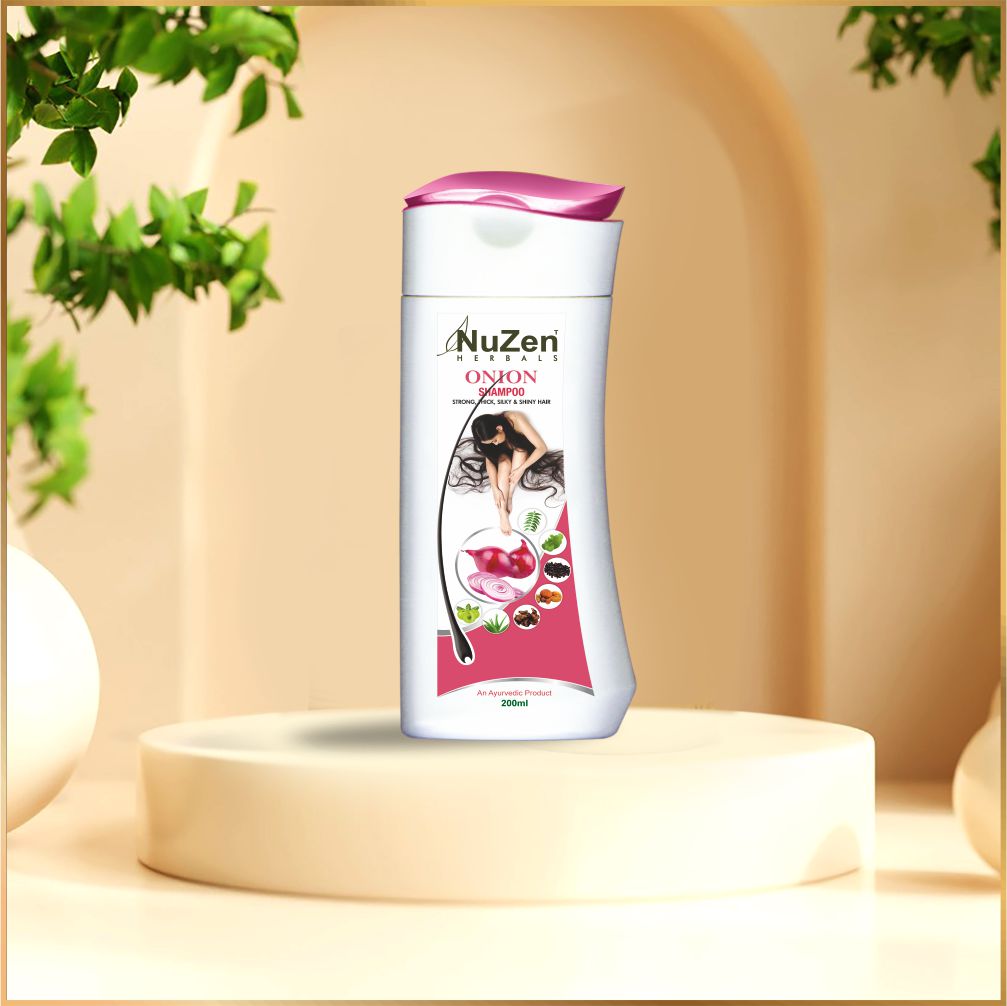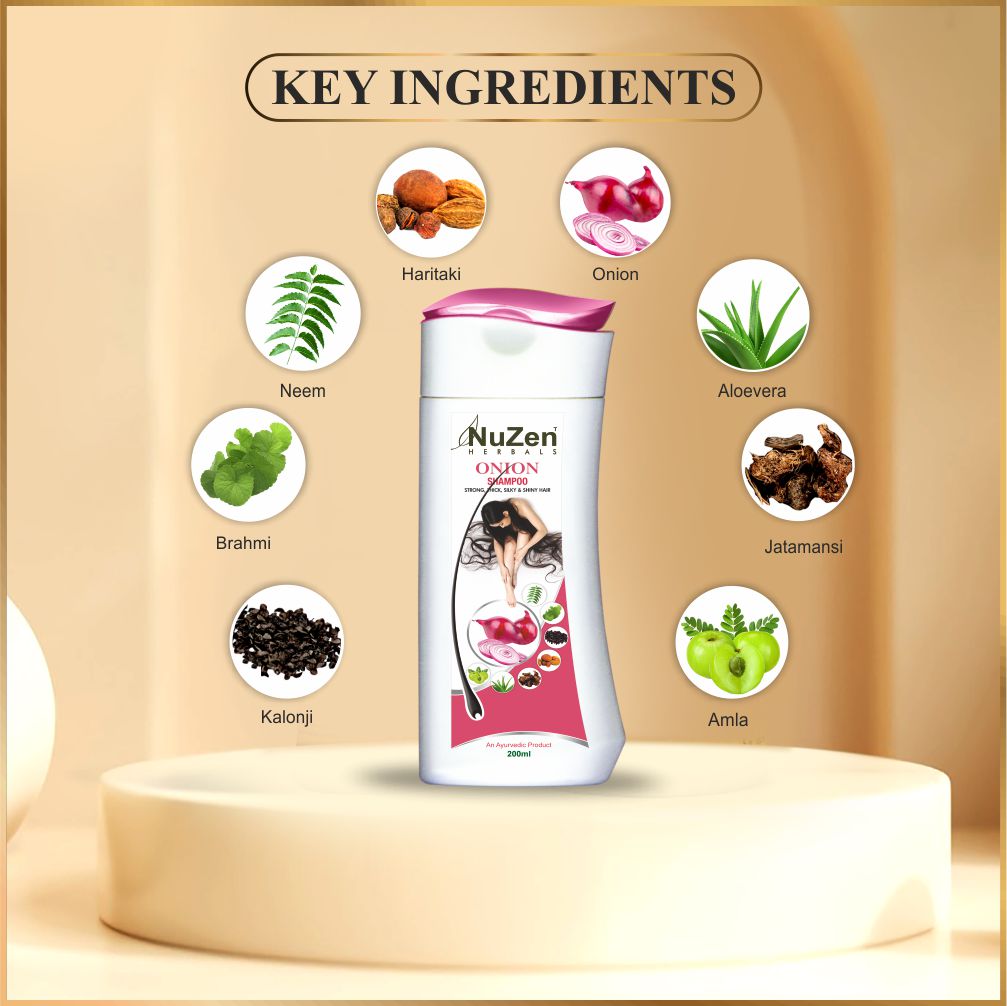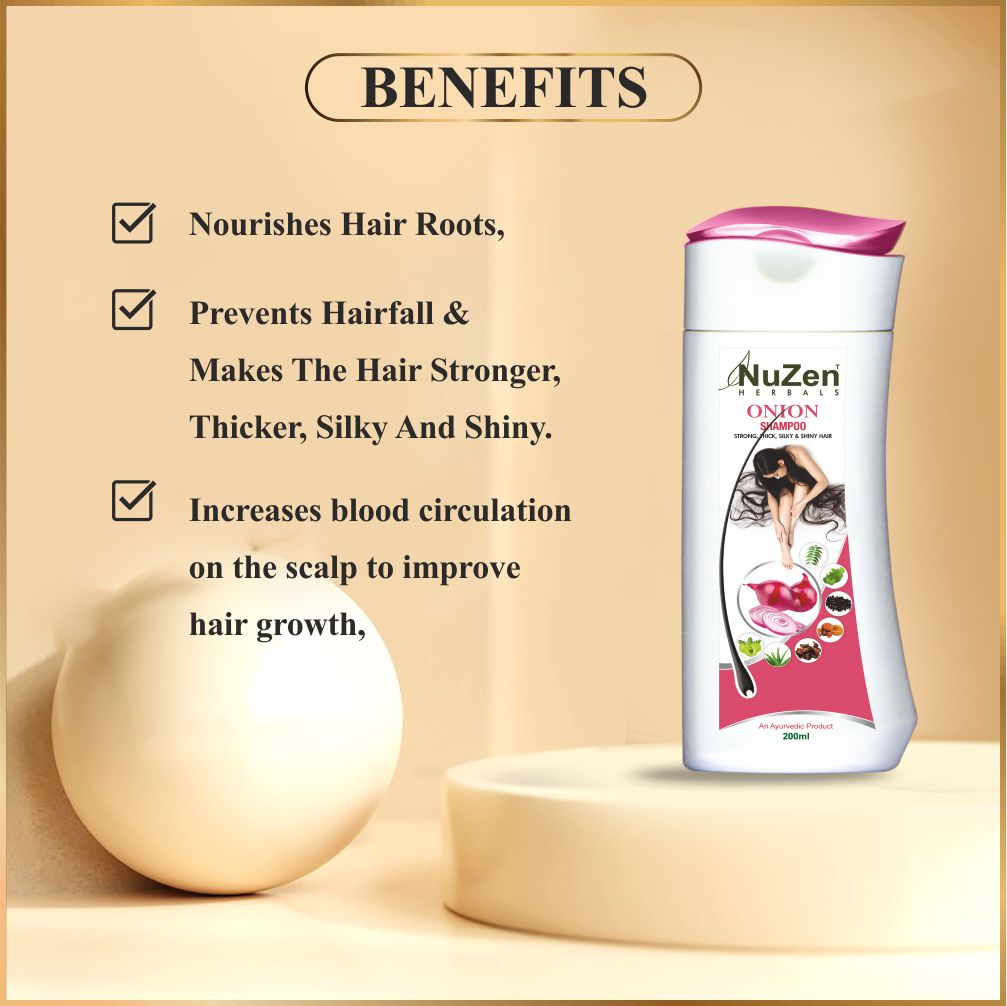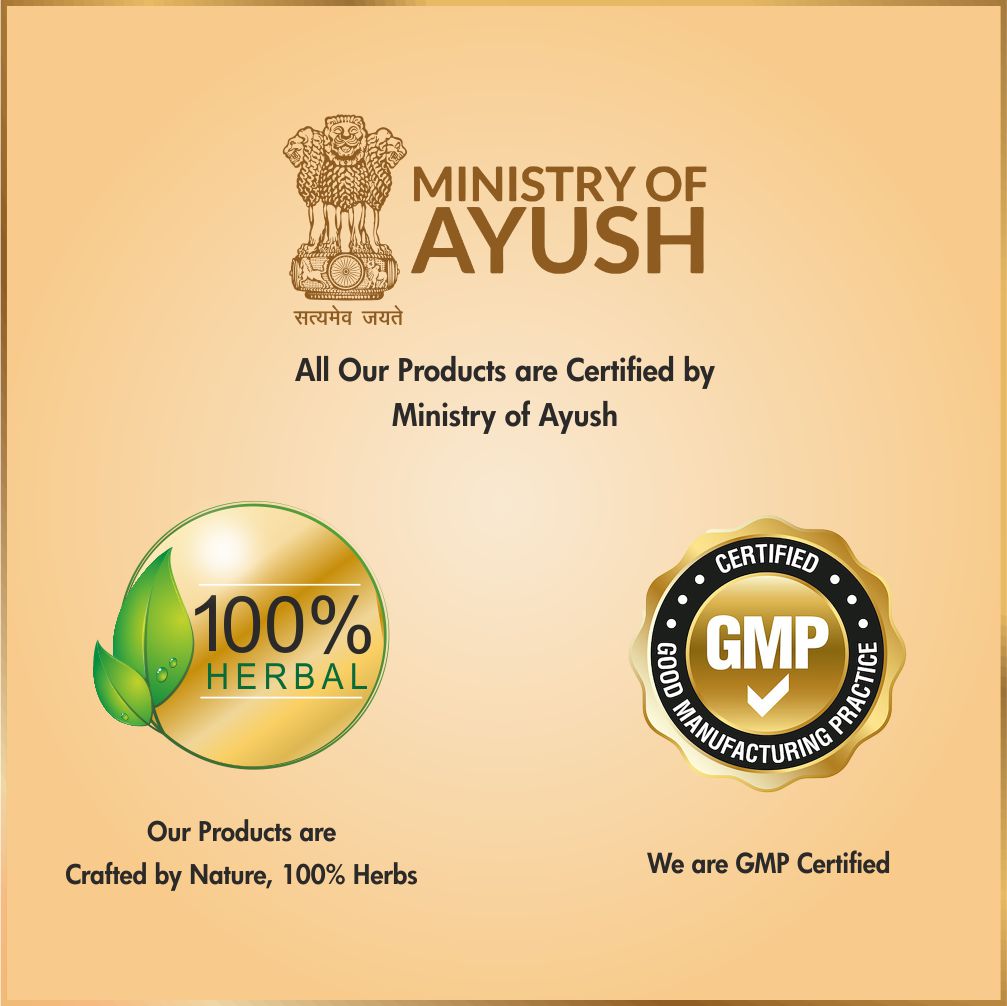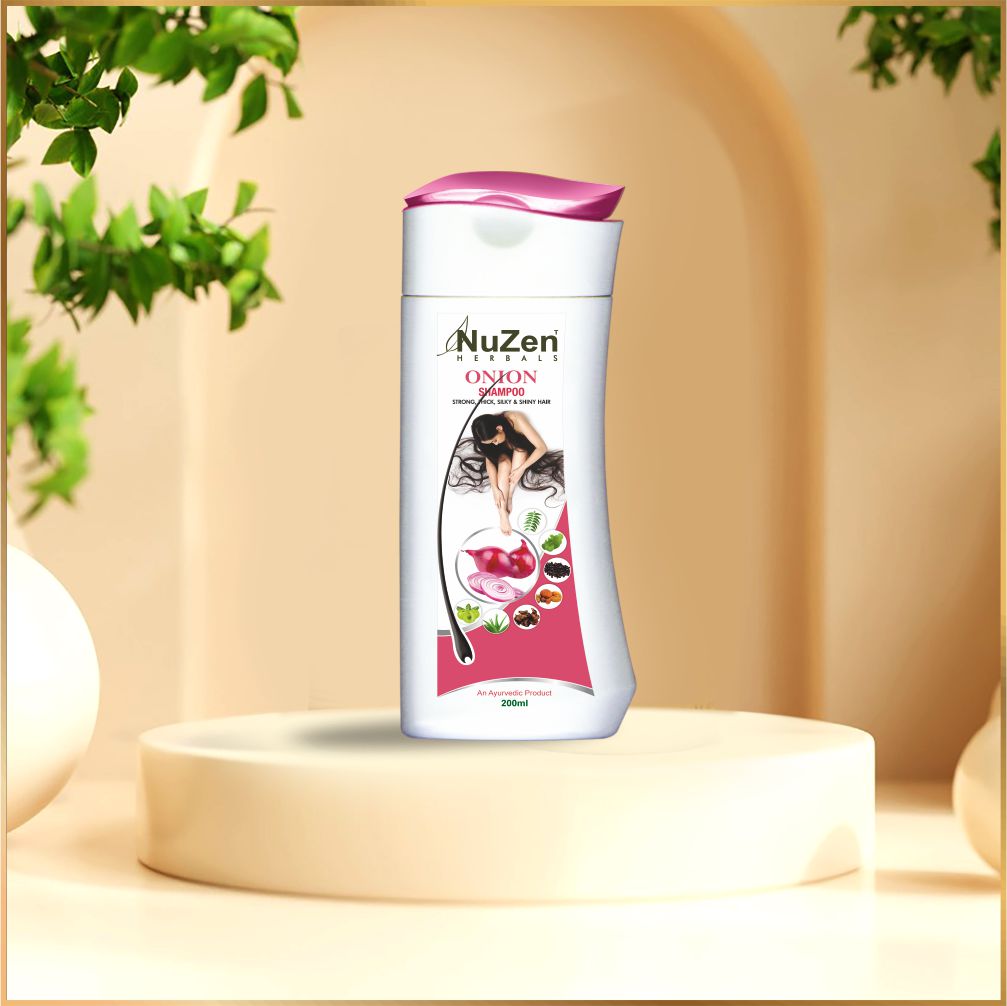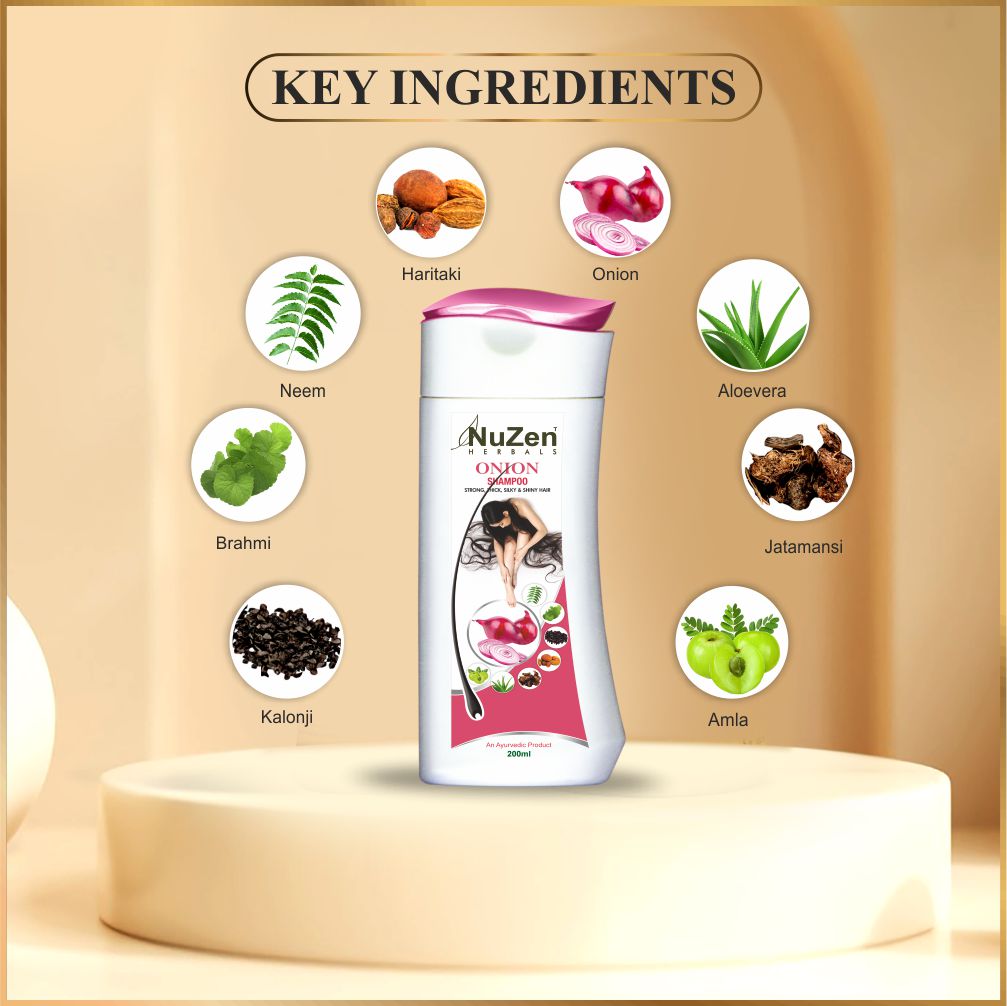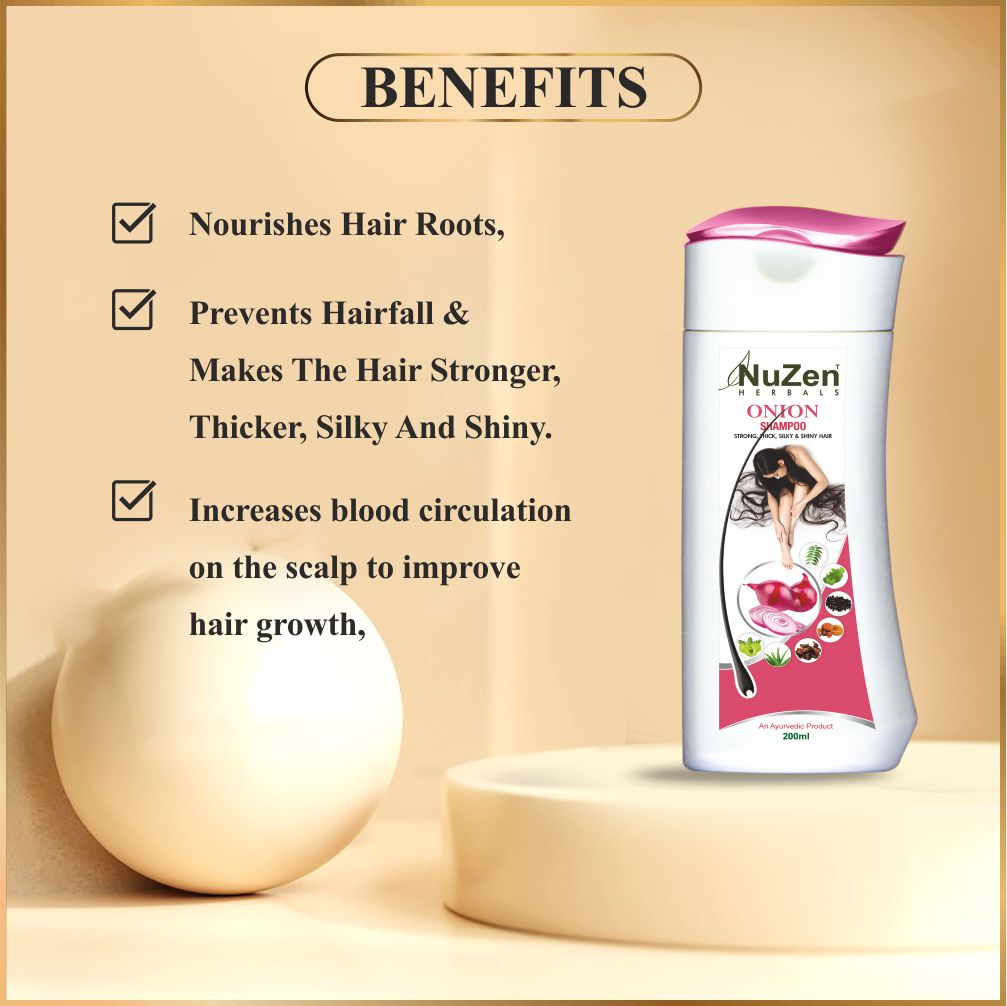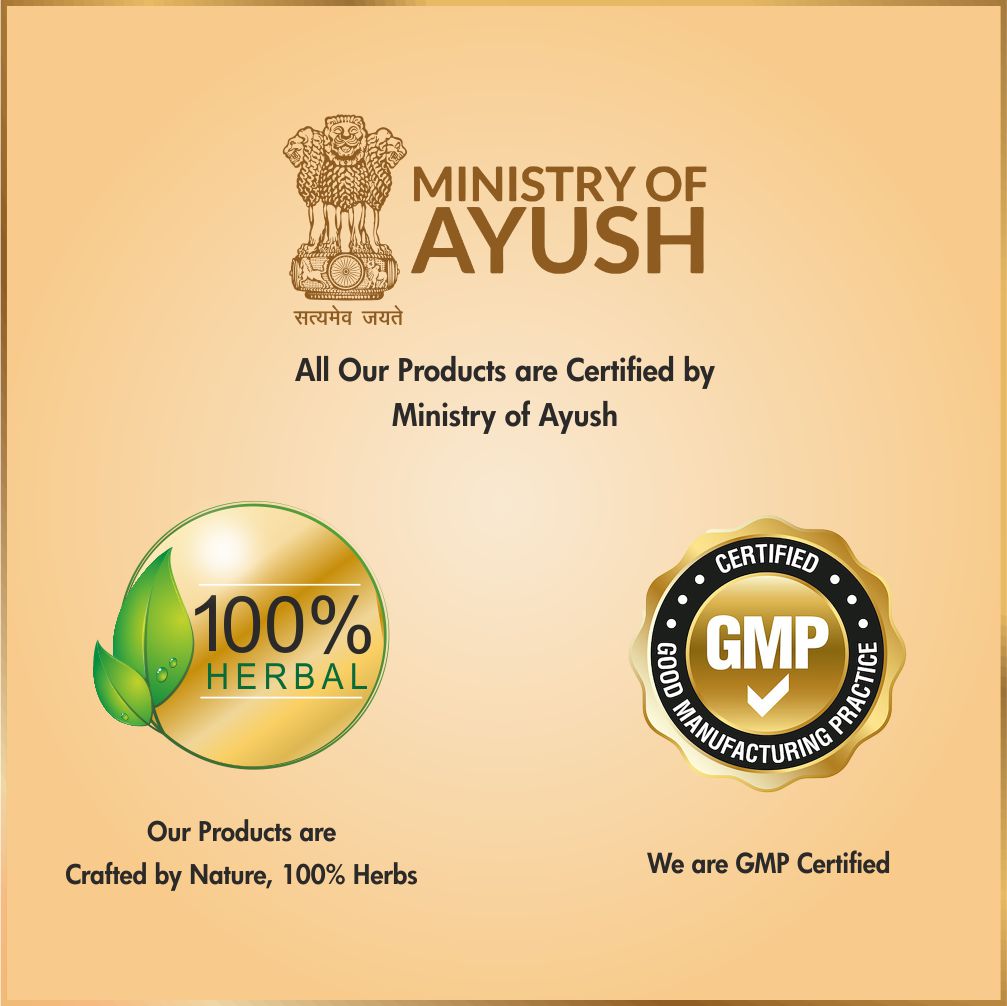 Regular price
Sale price
Rs. 189.00
Unit price
per
Sale
Sold out
Nuzen Onion Shampoo is the easiest solution for people to enjoy soft and glossy hair. Most of the younger generation is very attentive to choosing their hair care products formulated with ayurvedic ingredients to avoid hair fall. Onions contain "catalase" which acts as an antioxidative enzyme and controls shading off the hair to a grey color.
Thinning of hair becomes a major issue for the youth in this stressful full and busy lifestyle; they have no time to follow the old methods of extracting juice from the onions and applying them to their hair. So this is the best time to swap your hair wash products to Nuzen Herbal Onion Shampoo to control hair thinning, premature grey hair, and baldness. 
This Herbal Onion Shampoo contains many ayurvedic ingredients and no toxic chemicals like parabens, silicones, artificial colors, and mineral oils. The red onions are blended along with many other ayurvedic ingredients like kalonji (Black seeds), Aloe vera, Brahmi, Neem, Amla, Bhringaraj, Jatamansi, Haritaki, and pro-vitamin B5 (D Panthenol). 
KEY INGREDIENTS:
Red Onion: Rich in sulphur, flavonaids and other vitamins are helps to increase blood supply to the scalp and strengthen the hair strands, which in turn accelerate the hair growth and prevents the hair fall.
Kalonji (Black seeds): Rich in antioxidants and has anti bacterial, anti fungal, and anti-inflammatory properties. It helps to reduce the excess dryness, moisturizes the scalp, prevents dandruff and makes the scalp healthy.
Aloe vera: It contains vitamins A, C, and E and minerals. It helps to maintain the well balanced scalp. VItamins and minerals contribute to cell turnover, promoting healthy cell growth, and repairs itchy scalp.
Brahmi: This miraculous herb helps to prevent dry and brittle split ends, strengthens hair roots, nourishes hair shaft, and gives strong and shiny hair.
Neem: It treats dandruff and itchy scalp, prevents premature graying of hair, hydrates dry ends.
Amla: The phyto nutrients, vitamins and minerals present in amla help in blood circulation to the scalp, protects from external damage, helps to hair growth and prevents premature graying.
Bhringaraj: Rich in iron and other nutrients helps to boost nourishment to the hair follicles, provides deep nourishment to the hair, and gives bouncy, voluminous and healthy hair.
Jatamansi: It boosts hair growth, and makes silky and soft.
Haritaki: Potent constituent of triphala cleanses hair follicles, gets rid of dirt and impurities. 

Pro-Vitamin B5 (D Panthenol): It improves the texture and feel of hair more silky, shiny, bouncy and vibrant.
Benefits of using Nuzen Herbal Onion Shampoo
This naturally made onion shampoo has many flawless benefits.
Increases blood circulation to the scalp

Helps to reverse graying of hair to natural black and silky.

Nourishes hair roots and avoids itchy on the dry scalp

Prevents hair fall and helps to grow stronger

Repairs tangled, frizzy, and spilt ends on hair.

Makes bouncy and volumized hair.
How Nuzen Herbal Onion Shampoo is applied 
Take some amount of Nuzen Herbal Onion Shampoo on your hands according to your hair. Apply on the wet scalp and gently massage with your fingertips; now thoroughly cleanse your hair with lukewarm water.  For better results message with Nuzen Gold Herbal Hair Oil, after resting for 2-3 hours wash the hair with Onion Shampoo.
Caution:
Avoid direct contact with eyes while applying on hair.  Store at room temperature.
Share
View full details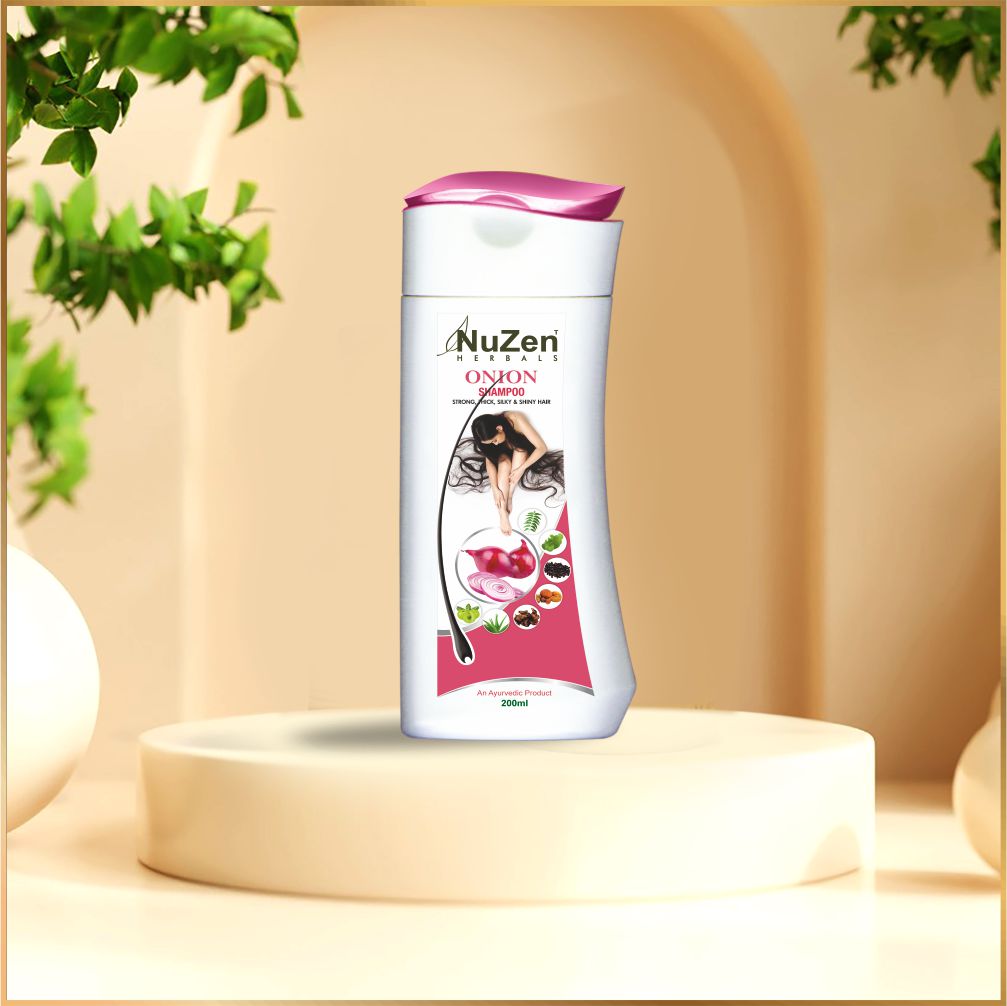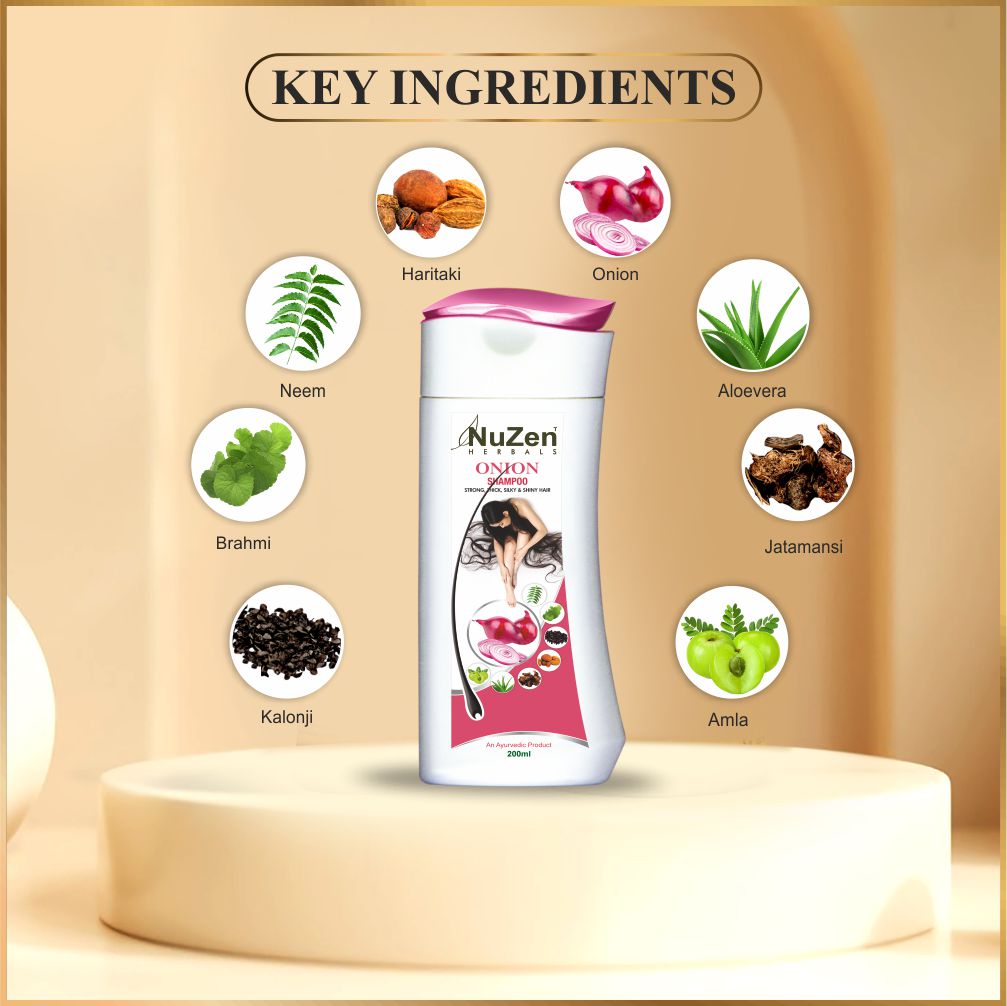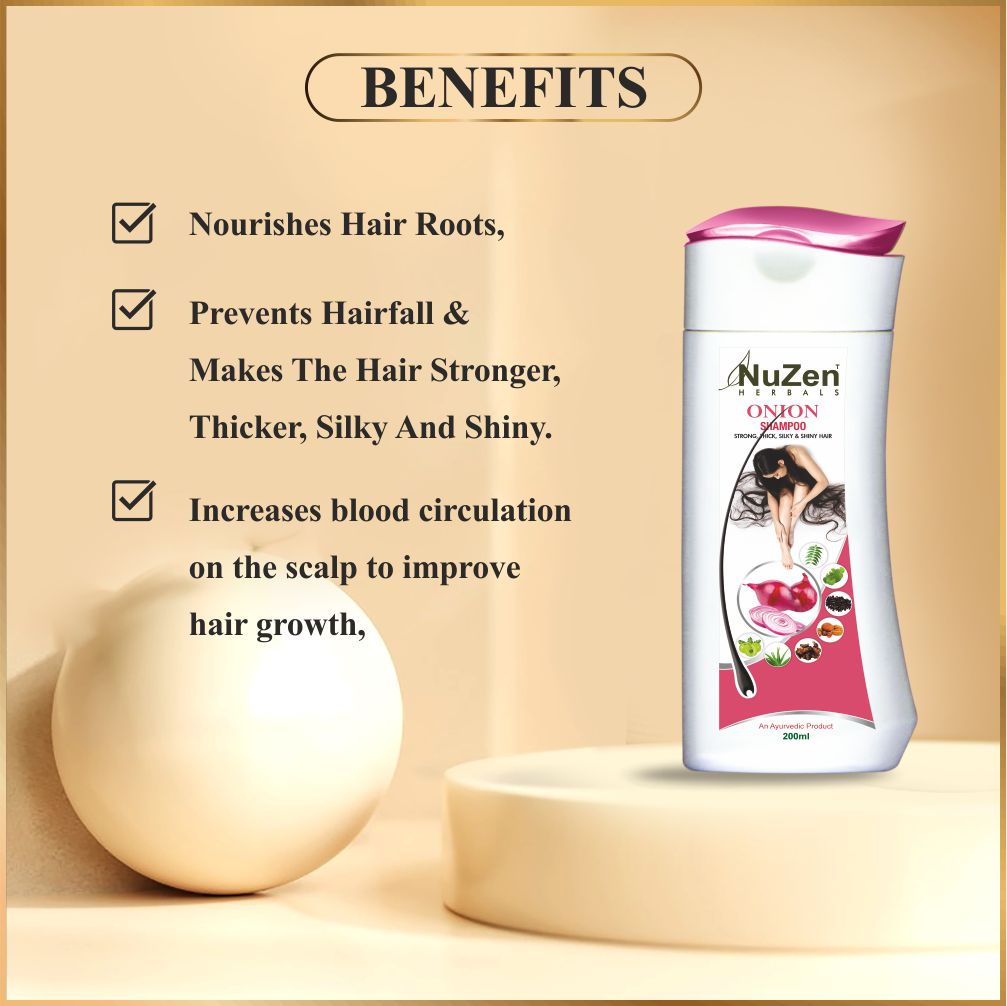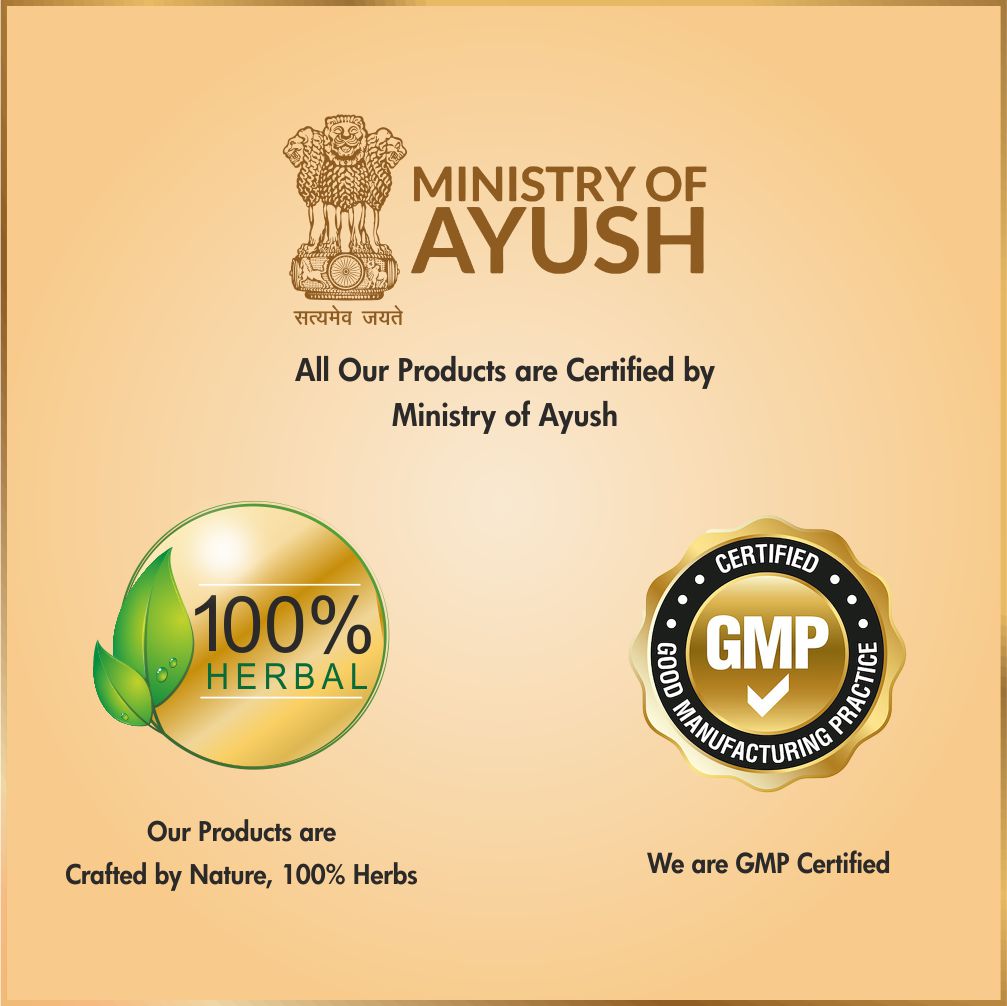 Combi Pack for Complete Hair Care
Reduces the premature grey hair and thickens the hair with double hair growth
The Best
Hi..I am very glad to say that the results are amazing after using couple of weeks. My hair fall problem totally solved. I and my family members also using this along with Nuezen Gold Herbal Hair oil and all are happy, with the strong, bouncy and shiny hairs. Thanks to Nuezen Herbal.
Spilt ends
Hi.. i am happy to write a review about this product.. it is actually reducing my split ends..
Bouncy hair
I am using this shampoo for my daughter and it is actually working for her bouncy hair..
Reducing greying of hair
I am wondered that there will be a hair oil which actually reducing the hair greying.. But it is there ..it is none other than Nuzen Gold Hair Oil..